The James Parker Family Cemetery
Houston County, Georgia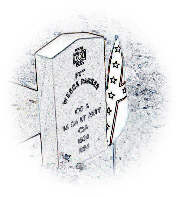 This family cemetery dates to ca 1825 and is thought to have perhaps been originally associated with a church located adjacently. It is located along Lake Joy Road in Houston County and sits about 60 feet off the road and about 300 feet south of the road's intersection with Langston Road. The following information was extracted from a 1980 survery of the cemetery by Dr. Wilmer O. Holloway.
"The cemetery is about 80X 63 feet and many of the fence posts remain as of this date, with some wire still standing. It is located in L.L. 108 and adjacent to L.L. 117 on the orginal Parker propery purchased around 1850-56 or earlier.
A few graves are marked. My family (mother and aunts, now deceased) believed the cemetery plots to be completely used up with graves. As a child I went to two funerals there on in 1937 and one in 1943. No one recalls a burial there since.*
The following is a list of persons, either known to be buried there or thought to be buried there, as indicated. Dates shown for birth and death are in a number of instances added from reliable sources. Many names are not known at this time. I have also indicated relationships to some extent."
1.
James Parker
b. circa 1780 (NC)
d. circa 1850-1859
grave not marked
probably buried here
2.
Wife of James
(name not yet verified)
Probable
The following children ( 3- 16--18- 20-22 ) of James and their family members:
3.
Archibald Andrew Parker
b. 12-7-1832
d. 11-29-1873
Confederate W. Vet. marker
4.
Merry Anne Elizabeth Peddy Parker
b. 25 Oct. 1830
d. 16 Dec. 1873
Not Marked
Their Children:
5.
James Madison Parker
b. 7 Oct. 1852
d. 8 Jan. 1926
6.
(wife)
Sarah Frances Ivey Parker
b. 1-27-1847
d. 9-20-1926
These graves not marked
| | |
| --- | --- |
| | Children of James M. and Sarah F. |
7.
Loucinda Ann Parker
b. 2-15-1877
d. 11-3-1882
not marked
8.
Cornelia Ethel Parker
b. 1-30-1880
d. 11-2-1895
not marked
9.
James Archibald Parker
b. 12-31-1883
d. 4-21-1936
not marked
10.
Anne Elizabeth Parker
b. 1-27-1847
d. 9-20-1926
11.
Walter T. Colquitt Paker
b. 28 May 1858
d. 15 Nov. 1859
not marked
12.
Charles Edwin Parker
b. 28 Jan. 1866
d. 24 Aug. 1923
13.
(wife)
Mattie Louella Johnson
b. 3 Sept. 1870
d. 12 Oct. 1925
| | |
| --- | --- |
| 14. Grandchild of above ** | marked, no name |
| 15. Grandchild of above ** | marked, no name |
16.
William Parker
b. circa 1825
d. circa 1880
Confederate W. Vet. marker
17.
(wife)
Rebecca Jane Peddy
b. circa 1840
d.
not marked
18.
Weeks Parker
b. circa 1824
d. after 1880
Confederate W. Vet. marker
19.
(wife)
Nancy Elizabeth Ivey
b. circa 1828
d. circa 1921
Slab marker-no dates
20.
James Parker Jr.
b. circa 1815
d. circa Nov. 1862
Probably buried here
21.
(wife)
Celia Cannon ***
Dates:?
Probably buried here
22.
Theophilus L. Parker
b. circa 1800
d. circa 1849
Not marked, probably buried here, believed to be son of James (1)
Not yet proven. WIFE ALSO PROBABLY BURIED HERE.
Wilmer O. Holloway, M.D.
1980
Notes:
* Though Dr. Holloway's kin could not recall burial after 1943, James Myrick Parker, son of Weeks and Nancy Ivey Parker was buried there in 1958. Miss Pauline Lewis of Perry, Georgia was a reporter for the Houston Home Journal at the time and remembers attending the furneral and burial at the Parker Family Cemetery.
** In Williams A. Mills book, The James Parker Family, these are recorded as Thompson children
*** Though Dr. Holloway lists Celia Cannon as wife of James Parker, Jr., later researchers have discounted this marriage and recorded James as never married.
It should also be noted that Mr. Mill's book does not list Celia Cannon however does list 3 other family members as probably buried there. They are:
| | | |
| --- | --- | --- |
| Alford Lawson Hudson | ca 1814 | ca 1854 |
| Sylvester V. Parker | 18 Dec. 1869 | 7 Sep. 1937 |
| James Myrick Parker | Sep. 1873 | 30 Aug. 1958 |
Terrelle M. Walker
June 1999
---
---

Return Home to the Briar Patch
---