The War Between The States
... the Great Southern Tragedy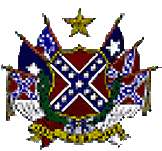 Never can I remember a time when I was not enthralled by this tragic period in history. And never can I explain why I felt so deeply, so passionately about this part of my Southern heritage. The pages are an expression of that passion and reverence........'lest we forget!
This site is dedicated to the ladies of the Sgt. Clinton C. Duncan Chapter, United Daughters of the Confederacy, Perry, Georgia. It was their dedication and devotion to the preservation of the history of the Confederacy that fostered in me at a very young age my reverence for those who sacrificed so much and my passion for my Southern heritage.
'Lest we forget!

Links
Great links to WBTS sites.
---
---
---
This site is a stop on
The Military Train

<<<West ---- The Junction --- East >>>
Travel The Rail
---
---
Pages on this site are created and maintained by
Terrelle M. Walker
(terre)
All materials on these pages not specifically stated to be in the public domain or acknowledged as the work of others (including but not limited to images, graphics, wallpaper, MIDI files, and original commentary) are the property of
The Briar Patch and its creator.
All rights reserved. May not be reproduced without permission.
©1998-2008