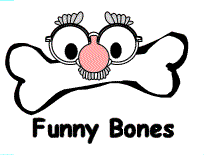 The humorous side of genealogy.
---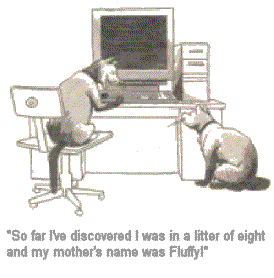 ---
Sugarcoated History
Another problem we have is with those relatives who may alter or embellish the truth in order to paint a rosier picture of the family heritage. Some of my personal favorites that I've heard from other genealogists over the years include the following gems.
--- "Great-grandpa was a chemical engineer." Translation: Great-grandpa ran a still and made bootleg whiskey.
--- "Cousin Walter has been in transportation for over thirty years." Translation: Cousin Walter is a truck driver.
--- "Uncle Al served his country proudly." Translation: Uncle Al served time in a Federal penitentiary for mail fraud and tax evasion.
--- "My great-grandmother was an successful businesswoman in the early 1900s in Chicago. She made the family fortune." Translation: Great-grandmother worked for the Everleigh sisters, Minna and her older sister, Ada, at their high-class bordello on Dearborn Street, and was one of the better courtesans there.
Source:
George G. Morgan: "Along Those Lines . . ."
"My Lips Are Sealed!" Tips for Dealing with Reluctant Family Members
Ancestry Daily News, 6 December 2002
Sponsored by Ancestry.com
---
More Smiles

---