Hi everybody! My name is Pork Chop.
I am a Vietnamese Pot Bellied Pig. I am my Mommy and Daddy's little angel

from heaven. I was their Christmas present years ago now.

I was only nine months old when my other Mommy decided she didn't want me anymore. I was getting too big and she must not have wanted me to be a big boy...she wanted me to stay little and cute. But I'm a big boy now and I am just as cute as I was back then...that's what my Mommy tells me anyhow.
My other Mommy used to lock me in a little kennel to sleep at night and I would be so afraid because it was dark and cold in there. When I came to my new Mommy and Daddy's house I found a pile of blankies at the foot of their bed and I just went right in there and messed them all up...and puffed them all up and went to sleep in piggy dreamland.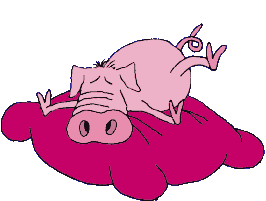 My Mommy and Daddy thought that was so cute so that they let me have all of those blankies. Now they are by the wood stove and I'm not in the dark anymore and I stay nice and toasty warm.I wish all my cousins and brothers and sisters in this world could have a Mommy and Daddy like mine and be nice and warm and never hungry.

When I first saw my new Mommy and Daddy I didn't know if they were going to love me or not. I was so scared 'cause I didn't think nobody loved me anymore. When we first drove up to their cabin I was real nervous and knew I had better be on my best behavior. So when I saw that she had some raisins in her hand I started doing ring around the rosie over and over again for her. And right there on that spot my brand new Mommy fell in love with me.



My Daddy thought I could be his wittle fishing buddy but he didn't remember that I am a real pig and real piggy's like to wallow in mud and play in the water
. So when my Daddy took me fishin' with him he never caught a fish. But he didn't care...he told me that I was his greatest catch of all.
I love Christmas time because my Santa Claus

always brings me a new blankie and lots and lots of treats like raisins, carrots, apples, and grapes. Sometimes I get to have a nammer too but this year Mommy says I am getting too fat so I may only get a little biddy bit in my stocking.

Well that's okay 'cause I'll just wait till they go to their Christmas dinner and me and Tater Tot and Soda Pop are gonna have a party 'cause I learned how to use my snout to open the 'frigerator. I did and I am so proud of myself.

See...I told you I was a big boy. Now I gotta learn to open the big door so Honey, Hitch, Buffy, Tar Baby, Mauvro, Tigger, Papa Duck and Chicklet

can come in. Oh and Norman too...he's a cow.

I have a very happy life and love my Mommy and my Daddy so much.

I love

all my Aunties and my Unkeys in the Angel Gardens and I just love everybody in the whole wide world.



I love Christmas time and I love seeing all the presents under the Christmas tree.

I love the smell of outside when everybody has their woodstoves burning.

I love seeing my Mommy open the oven and take out some cookies that she cooked...'cause I always get one but maybe I can talk her into two sometimes...if I'm a real good wittle boy!
I love pushing my snout under the snow and finding me a big fat juicy root to eat.

I love hearing my Daddy's car pull into the driveway'cause I know I am gonna get a doggy biscuit and even if it is cold and raining or snowing outside I run out to the gate to greet him.



I love laying on my side so my Mommy and my Daddy can give me my belly rubs.

I love when it is my bedtime and right before I lay down my Daddy calls me over to him and gives me my Flintstones vitamin.



And I especially like it when I smells popcorn cooking...yum yum!

My Mommy and my Daddy and me...Pork Chop...we just wish that all of the animals in the whole wide world can be happy and have a Mommy and Daddy that loves

them. And that they can have a nice warm house and bed to sleep in like me.

Special Hoggies from me!

Wuv Pork Chop \(oo)/