---

Our Moody ancestors are believed to have been Irish immigrants. The earliest known patriarch of this Moody line is Josiah Moody. He and his wife Mary settled for a period of at least twenty years in Houston County, Georgia. The area of that county later became Crawford County. The 1830 census records that they came to Georgia from North Carolina. We have found Josiah last recorded in a Tax Digest of 1852 in Macon Co. It is believed Mary died in a smallpox epidemic in 1858 in Oglethorpe, Macon Co., GA and is buried in the Smallpox Cemetery there. Sometime after this, oral family history relates that Josiah and his younger children moved to Mississippi. Known to have stayed behind in Crawford County was a son, James Michael Moody and his wife Nancy Thomas EUBANKS Moody.
It is hoped that these pages will eventually lead to the uncovering of our missing Irish family.
If you have information to aid in this endeavor please contact me by signing my Guestbook or by Email.
For additional history of this Moody family click below.

To further explore your Irish roots go to:
IRLGEN Welcome Page

And just for fun, explore the Myths of St. Patrick:
The Island - St. Patrick - Three Myths


---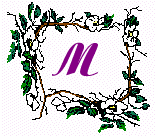 ---
---